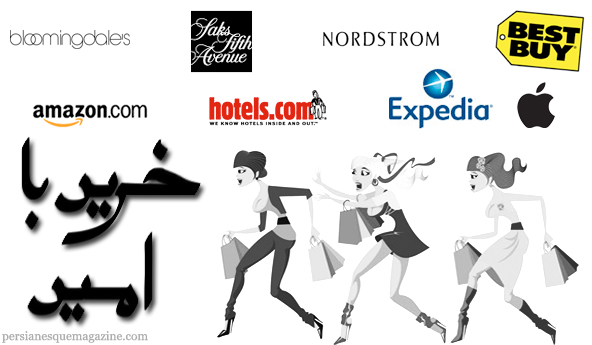 The Omid Foundation Shopping Mall is a unique online shopping experience where you can shop for the things you normally buy from your favorite stores and brands, with the same prices you normally pay.

The best part?

Every time you shop online at one of the participating stores, Omid Foundation automatically receives a portion of your purchase(s) as a contribution.

If you download our EZ Shopper APP (takes less than 2 minutes) you can skip having to go through Omid's website, and shop directly from your favorite retailers.

More than 500 international retailers have joined the program.

The list includes Macy's, Target, eBay, Amazon, Nordstrom, Barnes & Noble, Banana Republic, Marks & Spencer, Sainsbury and many of the other major brands you know.

Contributing to the Omid Foundation has never been this easy.

All you need to do is:

1.        Take a look at the list of the 500 plus participating retailers: US or EU

3.        Shop Away.

The beneficiaries of your generosity are the young women under the care of the Omid Foundation.

One of these girls is Soraya. Three years ago, at the age of 19, Soraya was just getting out of a drug rehab center, had not finished high school, and had no clue what she was going to do with her life. But she was one of the fortunate few who were accepted into the Omid program.

A few months ago she graduated from the program.

Soraya now believes in herself, is working full-time in the accounting department of a wonderful company in Tehran and lives with two of her friends from Omid in a small apartment. The future looks wonderful. Three years ago she did not think any of this was possible.

None of this would have been possible without Omid. None of this would have happened without people like you supporting Omid.

The Omid Foundation works with Nonprofitshoppingmall LLC (NPSM) to drive a new revenue stream of unrestricted funds into Omid Foundation's annual budget. The 500+ retailers listed on the Nonprofitshoppingmall (NPSM) website pay a sales percentage or set fees to NPSM. NPSM, in turn, pays sixty percent (60%) of those Retailer Payments to the Omid Foundation on a quarterly basis.

Visit: omid-e-mehr.org for more info or contact; info@omid-e-mehr.org.