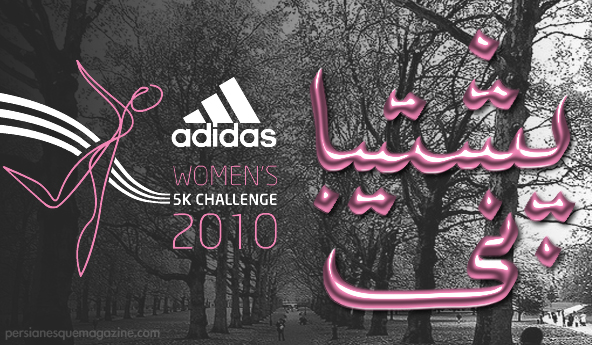 After watching The Glass House and "finding out about the hardship and traumas that [the girls under the care of the Omid Foundation in Iran] experienced, [it] provoked feelings of sadness, anger and dismay in me," says Mina Roshandeli of her inspiration to participate in the Adidas Women's 5K Challenge–set to take place in Hyde Park, London, UK–and her intent to raise funds for the Omid Foundation.
"…But I never even came close to imagining what those young women had been through."
I really feel passionate about the work that Omid does and even though I have been strongly advised not to jog as a result of my accident, I am going to join thousands of other women on this year's adidas women's 5K Challenge in Hyde Park, London. I will part walk and part run, and with your help I can raise money to support the Foundation's vital work."
To sponsor Mina Roshandeli and help support the Omid Foundation you can make an online donation through Justgiving.
(If you're a UK taxpayer and agree to Gift Aid your donation, Justgiving makes sure 25% in Gift Aid plus a 3% supplement are added to your donation.)
Alternatively you can donate directly to the Omid Foundation either online or by sending a check. (Click here for more details.)
US donors should note that they need to make their donation to our US arm "Omid Foundation (USA)" if they want to take any tax deduction in connection with their donation.
The Adidas Women's 5K Challenge is a fun run for women of all ages taking place in Hyde Park, London. Every year thousands of women participate and raise huge sums for a vast number of charities, both national and local. adidas is title sponsor of this event which is one of the biggest and best women-only fun runs in the world.
The 2009 5K Challenge included the two World Champions Linet Masai and Vivian Cheruiyot. But the field is also full of participants who are running just to beat last year's PB, running for the very first time, planning to just get round, or raising funds for a charity that is important to them. For more details see http://www.womenschallenge.co.uk/.
The Omid Foundation The Omid Foundations (with registered charities in Iran, the US and the UK) were established in 2004 to strengthen the social, emotional, and economic competencies of disadvantaged young women in Iran (aged from 15 to 25), and provide them with a sense of self-worth and with the opportunities to experience a full range of life options through self-empowerment, education and training.
Omid's clients have typically either been put into care from an early age, or run away from abusive homes, or live in extreme poverty. They often suffer from severe mental health and emotional difficulties, mostly stemming from their experiences of neglect, physical and sexual abuse, and exposure to drugs and violence. Despite their past difficulties, and the obstacles still facing them, Omid's young clients have dreams. They yearn to participate in life, and to make meaningful contributions to the world around them.
Omid's holistic approach provides these young clients with the opportunities to realize such dreams. They are offered the tools, structure and support to help them succeed. And, above all, they are offered the chance to be heard. The cornerstones of this approach are self-empowerment, education and training, supplemented by effective work placement and counselling. Omid now caters to the need of over 100 young women. Donations in the US and the UK are tax deductible to the extent permitted by law. The Foundation is also allowed to remit donations by US persons to Iran per the terms of its OFAC license issued by the US Department of the Treasury.