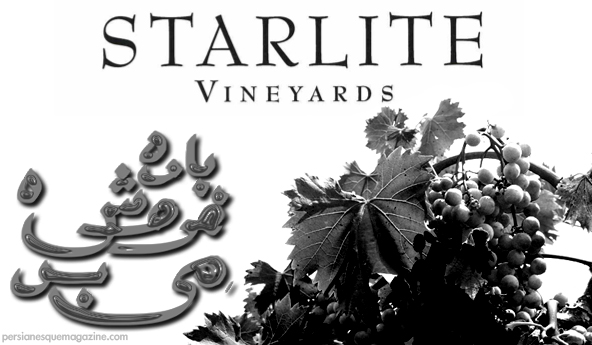 Alcohol is "strictly forbidden under Islamic law",  but in Iran (Persia), drinking wine dates back thousands of years.
That's right…The original party-people have left behind archaeological proof suggesting that the first production of wine, by way of fermenting grapes, began in places like Georgia and Iran around 7000 BC.
And so the tradition continues at Starlite Vineyards.
Located in Sonoma County California, Arman Pahlavan's wine country establishment serves some of the best tasting wine(s) being served at top restaurants around America.
A former wall street heavyweight and current legal guru, we recently chatted with founder of a West Coast winery that has created the most splendid Viongier you'll ever taste.
Enjoy our one on one with the mey-(Persian:wine)-making counselor.
PEM: Why the name Starlite?
AP: When I was a student at Berkeley, I worked in various restaurants to pay for my daily keep.  The most elevated job that I had in the restaurant business was at one of the finest culinary establishments in San Francisco called Stars Restaurant.  I was one of four maitre d's that ran the floor. That restaurant is no longer around but it was a spectacular place.  It was located across from the street from the San Francisco Opera House and Symphony and everyone that was a socialite in San Francisco used to frequent the place.  As a going away present, Jeremaiah Tower, the owner of the restaurant gave me an 8 oz can of Beluga caviar as my going away present when I was leaving to go to law school.  It was the summer of 1988.  I took the caviar and went to Auberge du Soleil in Napa, when that place was a relatively small hotel, and enjoyed it with my girl friend.  For those who know the Auberge, it has a veranda and overlooks Napa Valley up on top of a hill.  It has a really special view.  There was a crack in the sky and stars were pouring out.  I had never seen that many stars.  I told my girlfriend that I hoped that someday I would be able to live in the wine country.  In 2001 I bought the property and we named the property after that evening as "Starlite Vineyards."
We wanted to create wines that would be companion to fine dishes. So, for the first vintage, I took the wines to New York and went to meet with the top New York sommeliers to see if we could garner their interests in the wines.  This would be an an attestation for me as to whether or not we had stylistically a wine that would be able to play in the top tier as to quality.  Given that I had another career, and limited cash, I didn't have any interest in playing in the vanity of owning wineries to play in the middle tier.  I wanted to be either in the top tier of quality or skip this venture.  When I went to New York, the restaurants gave us a huge tumbs up. That vintage I placed the wine at every restaurant that I went to visit.  The first buyer of the wine was Arnaud Devuler at DB Bistro.  He loved the wines and called around some of his other friend sommerlies and told them about our wines.  So, we got introduced around to the top buyers in New York and were able to place that vintage of the Zinfandel at many establishments, including Daniel Boulud, Le Bernardin, Alain Ducasse, Veritasse, Eleven Madison Park, Craft, Gotham and many others.  With the success of the support from the top New York buyers, I came to San Francisco and Los Angeles and we found a distributor for Las Vegas and we sold out that vintage.  We then expanded the wines little by little and have been able to create a winery out of this predicament.
What types of grapes do you carry?
We started the winery with the Zinfandel, since that was already planted on the property.  We then wanted to make a white wine that matched the stylistics of the Zinfandel, especially the gorgeous aromatics of our "claret style" Zinfandel that we had created.  So, after a fair amount of tasting white wines, I found out about the Viongier grape.  It is a grape that is indigenous to Northern Rhone valley of France.  The Viognier grape is a very special to the French sommeliers and wine buyers.  95% of the Viognier grows ina a small town called Condrieu and the French wine buyers are very critical of the Viognier that comes from regions other than the Rhone.
The Viognier wine is marked with unique aromatics. When you smell the wine, you smell summer.  And that is what I wanted to capture when I produced our Viognier.  The Viognier is makred with beautiful bouquet of nectarines and peaches.  Its aromatics is remarkable.  After tasting some Viogniers, we then decided to go ahead and give it a try and make some by buying a bit of grapes. The wine came out gorgeous.  It had all of the nectarines and peaches and some honeysuckle and roses, and a touch of melon.  It has a beautiful mid-palate and a crisp and defined finish.  It came out absolutely fantastic.
I took the wines again to New York to see if we had the support of the top buyers and in fact we did.  The first restaurant I took the wine to is probably my favorite restaurant in New York, L'Atelier de Joel Robuchon.  At the time, the wine buyer there was Stephane Colling who had become a good friend of mine and at his previous restaurant (The Modern) located at the New York Museum of Modern Art was a huge supporter of our Zinfandel.  I took the 2007 Vintage of the Viogner to Stephane to see what he thought about it and he gave it a big thumbs up.  While there at lunch, Stephane introduced me to Bob Grimes, who is a Vice Chairman of City Meals on Wheels.  Bob came to my table on his way out and told me that Stephane had given him a small pour of the Viognier and he loved the wine.  He told me that it was one of the most beautiful expressions of the Viognier grapes that he had tasted out of California.  Bob and I have since became wonderful friends.  He has been the most generous friend to me with absolute extemporaneous encounter over the wine.  We have collaborated on many fronts, including some of the work that I currently do in my law practice.  We have released 2 vintages of the Viognier and we are producing our third.  Once we defined our Viognier we then planted some Viognier on our own property and it seems to be doing fantastic.  So, we are planting some more Viognier on our property to support our own needs.
The final wine that we have produced is our Cabenret Sauvignon.  We are bottling our Cabernet later this year and will release a limied quantity of it early next year.  Again, it is important for us that we produce wine from our own estate's grapes.  We planted a clone of Cabernet Sauvignon in 2002.  2007 was the first vintage that the fruit was sufficiently interesting to see if we could make a stand alone wine.  Although the vines were young, the resulting wine exuded plenty of fruit and structure.  Again, we put some of the Cabernet in the barrel to see what we would have over time.  When I was working the Brussels market with our Berlgian distributor, we shared our booth with one of the top producers of Tempranillo in Spain from the Ribera del Duero region.  I fell in love with that producer's Tempranillo.  I came back to California and tried to blend some Cabernet with Tempranillo.  The result was spectacular.  So, we found some bulk Tempranillo from one of the Napa valley producers and blended various percentages of the Cabernet and Tempranillo.  I then took the blends and sat with one of the top sommeliers in San Francisco and we both honed down on one blend.  Our 2007 Cabernet Sauvignon will be released based on much collaboration and experimentation to create a Cabernet Sauvignon in the Alexander Valley region that will stand out.
Do you offer event space?
Yes, for small and more intimate gatherings.

Do you think your bottles are affordable?
For quality they are definitely a good price. Producing wines are expensive and are reflected in the price of our wines.

Whose palette are your wines made for?
The wines that we make are approachable when we release them and they are also quite remarkable for aging.  So, in essence, our wines are made for everyone's pallette.  They wines are aimed to please the pallette and they do a good job.
Where is your wine sold?
The wine is sold from our tasting room and off our website at StarliteVineyards.com.  It is also sold at many of the finer dining establishments through the United States.
Favorite combination of Starlite wine and a Persian dish?
Fesenjan with the Zinfandel.

Why is wine important to life?
It is art and it exudes passion and flavors and makes things difficult more bearable.

What's been the most memorable feedback you've received about your product(s)?
Arnaud Devulder, then sommelier at DB Bistro opened the New York market for our Zinfandel.  I will never forget his feedback and encouragement to sell the wines in New York.  With his French accent he described the wine as "full of berries and cherries with a 12 second finish."   It was the funniest and the most wonderful description of the wines.

Have your wines won any awards?
We won the chocolate and wine pairing at the Malibu Family Wines Festival in October 2009.  We won the Top Wine for the Reno Ski and Wine competition in 2008.  We won the Silver Award in the Dallas Morning New Competition in 2008.  We received 92 from Wine Enthusiast for our 2006 Zinfandel.  But, these don't really mean anything.  The individual decides whether they like the wines or not.  Most of these are there for publicity.
What advice do you have for any other Iranians looking to get into the wine business?
Don't do it.  It is way too hard.
What's in store for the future of Starlite?
I hope we become a long lasting established name in the wine world.  I would like to do this full-time when I retire.  It is a beautiful profession.  It deals with the land, with agriculture and with people. It is a wonderful metier.