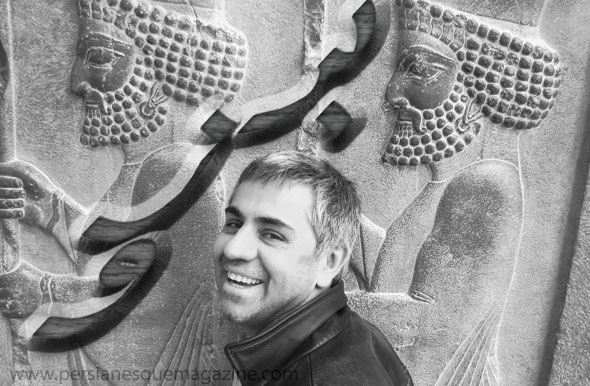 Washington, DC–Marking the 30-year anniversary of the Islamic Republic's existence and reign in Iran, the year 2009 went by…well, fast. The summer of 2009, not so much.
The Iranian election–which took the world by shock with its results and brutal force used on Iranian citizens by government-led orders–began in June and lasted throughout the summer: Most of which, we spent watching videos of our fellow Iranians in distress and under severe  and inhumane conditions. Seconds seemed like hours and hours seemed like seconds as we were entranced and lost in an intense phase of tweet-based news flowing out of Iran–much due to the effort of citizen journalists, social networking and micro-blogging sites–but one substantial and influential player in the game of reportage that needs to be credited is Pulitzer Prize-finalist Iranian-American journalist, and Persianesque Magazine's "Man of the Year": Borzou Daragahi.
Covering the Iran (or #Iran or #IranElection as Twitter trend-tags would classify it) story more exhaustively and consistently than his peers, the multilingual Borzou who speaks Spanish, Farsi, English, German,–and is in the process of learning Arabic–is working on publishing a book this year and says: "I daydream about moving some day to Tehran and starting a weekly English-language newspaper with my friends in the Middle East."
Writers are taught to "write what [they] know." And for Borzou, the global arena seems to be a perfect fit.
Dealing with dial-up connections and access-controlled internet in Iran were not the only obstacles making his job as a reporter, more difficult. "When you're there it's hard: internet is slow and the traffic on the streets is a nightmare. My heart goes out to the ones who remain in Iran. I'm [now] covering the story from Beirut. It's a little more manageable." Borzou recounts.
Born in Tehran, Daragahi's journalistic career was "accidental" he tells us.  Carrying many titles in the media/publishing world Borzou kept busy. "I was saving my money and hoping, at some point, to move abroad and freelance." And before he was hired by LA Times as "Baghdad Reporter"–and later became bureau-chief–Borzou left his former employers: Time Inc., and Money Magazine behind. "I was freelancing in Iran, Baghdad, and [other parts of the Middle East]."
As someone who can shape opinions and minds, and record the story(s) of the world's happenings with his mightier-than-the-sword laptop, the self-effacing and ethically-conscious Daragahi describes his job as merely "sorting through a lot of very complicated facts and information and attempting to present an accurately and fairly: which doesn't mean in away that gives every moral point of view equally and fairly. But accurately, and fairly. For example, if I'm doing a story about a massacre of people in some part of Iran, I'm clearly going to take the side of those vitcims who were massacred and while I'll try to be fair in explaining the circumstances of the people who conducted the massacre, I'm not going to put equal moral weight on each side."
The dangers and trauma from the kind of action-filled war-reporting Borzou has accomplished, might be too much to handle for the average journalist. "I feel the fear too when I hear a gunshot, but my curiosity allows me to overcome that fear." In 2007, Borzou published a piece that "recounted [his] 4 1/2 years in Iraq." (Click here to read it.)
While Borzou's work has consisted of some very intense, perhaps hardcore reporting, he's  met some very well-known (and sometimes controversial) characters along the way as well.
"I connected with Mohamed ElBaradei last September in Vienna. He was very colofrul and jovial. We had both lived in New York. He was an New Yorker, and used contemporary euphamisms: we really had that in common. He was interested in the arts and culture…Whereas in other publications he was shown as very dry."
His "dream" interview candidate?
Iran's current "Supreme Leader", Khamenei. Should he get his interview, maybe it'll be done over a plate of Fesenjoon (baa morgh: with chicken); Borzou's favorite.
For more reasons than we can count, Borzou Daragahi is our Iranian-American Man of the Year for 2009 but, not only for his selfless contribution to the world (and Iran), his sharp style of on-the-ground reporting, or his persevering ability to push out smart articles like very few can–it's more his polished, kind, and calm Persian manner that's deserving of recognition.
Iranian men are some of the smartest of the male species. And Borzou Daragahi is just further proof.
Click here to follow Borzou on Twitter.